Learn how the hierarchy of control can be effectively applied to create a safe workplace, and help you achieve your health and safety goals.
The hierarchy of control provides a consistent approach to managing safety in your workplace, by providing a structure to select the most effective control measures to eliminate or reduce the risk of hazards that have been identified during the risk assessment process. 
As a business, you must make sure you know about the main risks and the things you need to do to manage them responsibly. Generally, you need to do everything 'reasonably practicable' to protect people from harm. This means balancing the level of risk against the measures needed to control the real risk in terms of money, time or trouble.
The identified risks should be reduced to the lowest reasonably practicable level by applying control measures, in the form of a risk management process, in order of priority.  This is what is meant by a hierarchy of control and there are a number of versions available. This is the methodology that BCarm recommends.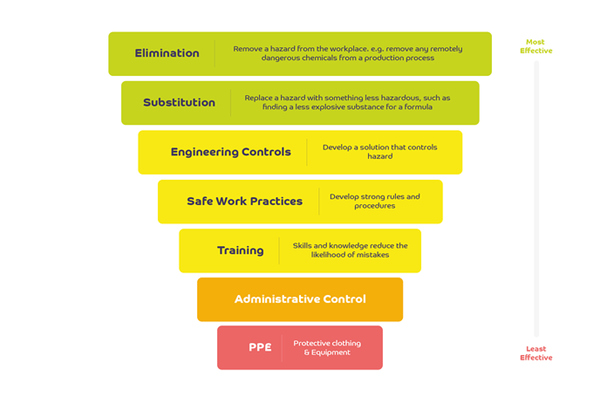 The most effective control measure involves eliminating the hazard and associated risk. The best way to do this is to remove or eliminate the hazard from the workplace or process altogether, so the hazard is no longer present; this could also include changing processes. An example could be removing a working at height risk by conducting the work at ground level, or eliminating hazardous machinery that can cause harm to users. 


Elimination
Elimination is the most effective way to control a risk because the hazard is no longer present, and is the preferred way to control a hazard.
Substitution
If it is not reasonably practicable to eliminate the hazards and associated risks, you must minimise the risks using the substitution method. Examples would be replacing the task with a less risky way to achieve the same outcome, or changing a formula so that instead of working with a highly explosive fluid, workers work with a fluid that's less explosive.
Engineering controls
An engineering control is a control measure that is physical in nature and controls the hazard at its source (requires a physical change at the workplace). For instance, use mechanical devices such as trolleys or pallet trucks to move heavy loads; place guards around moving parts of machinery; install residual electrical safety switches; install sound dampening measures to reduce exposure to unpleasant or hazardous noise.
Safe Work Practice(s)
Safe Work Practices will include work methods or procedures that are designed to minimise exposure to a hazard as well as the information, training and instruction needed to ensure workers can work safely. For instance, a business should develop safe working procedures that describe the task, identify the hazards and document how the tasks are to be performed to minimise the risks.
Training
Provide training to develop skills and knowledge of the risks of those exposed to them, and support to managers and workers to identify and manage health and safety risks. Training should require staff to demonstrate that they are competent in performing the task according to the procedure; this could be in the form of a test. 
Administrative control(s)
This can include developing other work practices to protect workers from hazards; such as limiting exposure time to a hazardous task e.g. a noisy area for and/or use signs to warn people of a hazard.  
Personal Protective Equipment (PPE)
Once all of the above measures are insufficient in controlling the risk to a practicable level, the next step is to provide PPE to staff. PPE includes everything from safety glasses, to hardhats, to fire-retardant clothing, ear defenders, and safety boots. Some industries will also require warning devices that are worn by the user, such as gas detectors and person-down detectors. 
Specification - is it suitable for the given task
Fitting - items such as dust masks will often require specialist fitting to ensure an adequate seal
Training in use - you cannot force staff to wear PPE so correct training is important for staff to understand the reason for use.
Maintenance - it goes without saying that poorly maintained equipment is destined to fail at some stage.
Note: If more than one item of PPE is to be worn, they must be compatible with each other and when used together, should adequately control the risks. For example, a half-mask respirator, provided under the Control of Substances Hazardous to Health Regulations 2002 (COSHH),16 may not be compatible with a pair of goggles, provided under these regulations, preventing either from fitting properly and leading to increased risk of eye injury and/or respiratory exposure.
Putting it into practice
This is merely an overview of the hierarchy of controls and you will see that each level will have its intricacies dependent on the industry you work in. The hierarchy of controls should be used by starting with elimination and if this is not possible, then finding a substitute risk management process solution and so on. The hierarchy of controls is a simple way of looking at how to assess and prioritise control measures so you can take the most effective steps to protect staff. These controls should be reviewed on a regular basis to ensure they remain adequate and in place.
Challenges Implementing Control Measures
Inconsistent application - This is pertinent for multi-site businesses especially where risk assessment processes and layouts should be consistent and replicated across all sites. This will also enable the business to track risk assessment compliance in a more consistent manner e.g. are all of the risk assessment control measures in place?
Poor culture towards Health & Safety - It is a struggle in many businesses to get staff to understand that health and safety is the responsibility of all staff, not just the H&S rep or manager. Some of the symptoms of a poor culture can include:
Failure to train staff in the correct use of equipment;
Failure to inform workers regarding the hazards present and the related risks;
Failure to create and implement Safe Working Procedures;
No formal means of authorisation – i.e. How do you KNOW that Joe Bloggs has his fork lift truck license?;
Failure to supervise adequately and check that all of the above points are being addressed.
If you consistently and correctly use the hierarchy of control method correctly, you are likely to create a safer and more productive workplace for all your employees - with the risk management process in place to ensure this happens.
More information on Hierarchy of Controls 
Arrange a discussion for more advice and help on the hierarchy of controls.
If you found this article useful, you may also be interested in our related insights such as: