Performance information is a critical component of any Management System, and this performance data needs to include both Lag Metrics, which tell you what has happened and Lead Metrics, which tell you what might happen.
Performance data allows you to manage risk proactively. If you are unfamiliar with how Performance metrics can help elevate your health and safety performance read our insight.
BCarm's Health and Safety Management system delivers both Lead and Lag Performance data; here's how.
Firstly, you can replicate your organisational structure and responsibilities so you can extract data in a way that allows you to align into individuals which can then produce KPI Data.
Then through the different modules, data is produced as follows:
Risk Assessments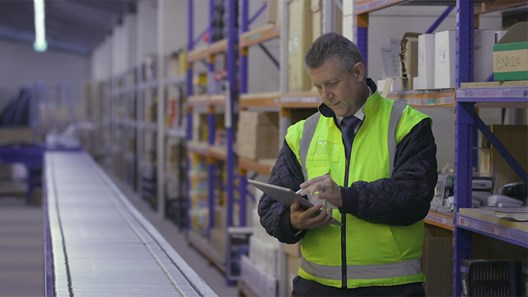 In BCarms HSMS, Risk Assessments are more than just reference documents, as each can have a proactive monitoring regime attached to it that tasks someone to "monitor" which control measures are in operation and being complied with.
This reporting or monitoring produces a performance score for the Risk Assessment, i.e. if the Risk Assessment has 10 control measures and only 7 are being met, then its 70% compliant. This is a Lead Metric.
Checklists
Checklists can also produce Lead Performance data when they are used to undertake proactive safety checks with positive outcomes accruing a score and negative outcomes no score.  For example, a Warehouse Housekeeping Checklist may have 20 criteria (each scoring 10 in the positive), if only 12 of these are met then this will generate a score of 60%.
BCarm's HSMS also allow for weighting to be built into the scoring.
Audit
Again, like Checklists the audit criteria can also generate a performance score.
Plant Inspections
These too can provide performance scores based on the outcomes of the inspections as described for Checklists and Audits.
E Learning
BCarm's E Learning has 3 components:
The tutorial,
The competency test,
The self-assessment.
The self-assessment asks the employee how safety is operated in their area of work, for instance "Are lidded bins provided for food waste?" in the Food Hygiene Module.
This again is a value source of Lead Performance Data as it can be accrued and interrogated across topics and the organisation's locations/departments.
Incident Reporting
BCarm's Incident Manager allows you to report and manage;
Near Misses
Dangerous Occurrences
Accidents, both RIDDOR and non-RIDDOR
Violence and Bullying, and
Road Traffic Incidents
You can also build your own bespoke Incident Reports
Each of these allows for Lag data to be collected and interrogated.
Tasks
System-generated tasks are used to drive essential Health & Safety related activities throughout the business, e.g. monitoring of control measures identified in a Risk Assessment.
Performance Data can be generated through tasks, as the business will have a detailed record of which H&S activities are being completed and which are not, generating both compliance information and Lead Performance Metrics.
For example, if a risk assessment needs to be reviewed yearly to assess its ongoing suitability, then a task will be assigned to the responsible individual; once the review task is completed, the system will record that the task has been completed as well as the revision history for the risk assessment.
HSM App - via Tablet or Mobile
With the BCarm HSM App you can easily access Checklists, Task Management, Incident Manager, Asset Manager and the Information Library wherever you are, regardless of whether you have an internet connection or not. The App automatically syncs with the system once the device is online. To see the App in action click here.
Reporting Centre and Personal Dashboard
All the above is instantly accessible through both the personal dashboard and the Reporting Centre, where Reports and Dashboards can be created as needed.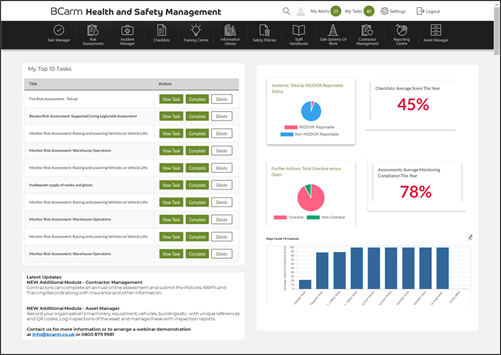 Management Alerts
All these reporting instances can also be coupled with Management Alerts that notify you if a reportable event occurs, such as a Risk Assessment only being 50% compliant or a Dangerous Occurrence being reported.
How do I get started?
To understand how BCarm could work for you, arrange a meeting with the BCarm team so we can understand your needs and requirements and whether we can meet them.