Our Business Continuity Management system provides the structure, resources, and guidance to develop your Business Continuity Plans and also the ability to maintain these once in place allowing Business continuity to become embedded into the business.
We've added some new features to the BCMS that bring greater transparency and visibility to your Business Continuity arrangements.
New BC Dashboard – this provides an instant pictorial view of your Business Continuity performance:
Displays 'Your tasks'.
New Reports demonstrate the current degree of resilience across the business continuity plans.
Monitoring & Testing Activity. 
Monitoring & Testing Performance.
Status (Operational, To be Implemented, To be Approved)
Ongoing Task Activity. 
Recent Activity tab displays recent creates/updates/deletes in a plan (users only see this data for plans they administrate).
New Notifications feature.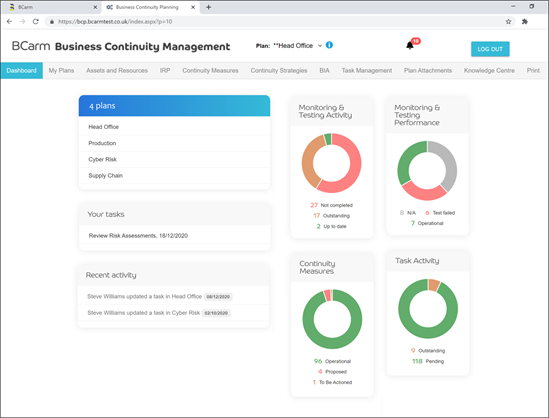 Monitoring and Testing of Business Continuity Measures – these are key to maintaining resilience:
Recurring tasks can now pass or fail.
New task alerts for "pass" or "fail" can notify when these occur. 
Now includes links from the Monitoring Task to the associated Business Continuity Measure.
Task lists always show outstanding activity first.
New IRP Incident log consolidates recorded activity in one place.
To book a webinar with our team to look at these new changes click here.